We believe that paddling a new boat or SUP is a crucial step in the purchasing process. As such, we offer demos of all of our retail kayaks and paddleboards. Furthermore, we credit three days of rentals toward the cost of a new boat. To reserve one of our demo boats, call the shop at (530) 581-4336. Keep in mind that we only have one of each model.
Mirage Series Demo Rentals

model|Sport
crew | Single capacity | 225lbs length | 9′ 7″ / 2.92 m
Perfect for pocket water, the cheerful Sport is still plenty of kayak, accommodating users of most heights. It offers every one of Hobie's signal features, including one-of-a-kind Mirage pedal propulsion, the incredibly adjustable Vantage CT seat, and like all Hobie kayaks rotomolded from durable polyethylene, dual rod holders. This small kayak has a big heart that equally loves pleasure cruising and teasing bass in the sticks.
---
model|Outback
crew | Single capacity | 400lbs length | 12′ 1″ / 3.68 m
Built around the comfortable Vantage CT seat, the Outback is so stable you might be tempted to stand when you cast. Studded with thoughtful features such as molded-in rod holders, generous below deck storage options, and the smooth Twist and Stow rudder, the versatile Outback is ready for your outdoor adventure.
---
model|Revolution 11
crew | Single capacity | 275lbs length | 11′ 6″ / 3.51 m
Ideal for small-to- midsize kayakers, or bigger kayakers out for an unencumbered cruise, the Revolution 11 allows you to adroitly stalk fish and confidently explore reefs. With generous below deck stowage, smart rigging on top (what's a kayak trip without a cold drink right at hand?), and optional sailing kit, the Revolution 11 is ready to roam.
---
model|Revolution 13
crew | Single capacity | 350lbs length | 13'5″ / 4.09 m
It is catchy too, with dual rod holders and plentiful tackle storage. If you crave a change of pace from hands-free MirageDrive motivation and pick up the paddle, the "Revo 13" still makes tracks. If this is a floating SUV, it's one that loves a twisty, challenging track. The lightweight, rotomolded hull sings when under optional sail kit power.
---
model|Outfitter
crew | Tandem capacity | 425lbs length | 12'8″ / 3.86 m
The design brief was simple: create an easy-to-use, performance-minded, rotomolded polyethylene kayak that provides years of reliable service. Built-in drink holders and utility trays, dual helms and MirageDrives—plus a mast step for the optional Sail kit—give the Outfitter serious legs, and the boat's wide beam, relative to its tidy length, delivers a stable, stowable and comfortable platform.
---
model|Oasis
crew | Tandem capacity | 550lbs length | 14'6″ / 4.42 m
Three enclosed stowage areas, large Twist and Stow rudder, a generous on-deck cargo area that's ready for an optional Hobie Livewell—plus molded rod holders—provide maximum flexibility when it comes to choosing adventures big and small. Whether it's a long weekend of float casting with friends or camping with the family, the Oasis gets the job done in style and comfort.
---
Paddle Series
model|Quest 11
crew | Single capacity | 300lbs length | 11′ 1″ / 3.38 m
A rotomolded polyethylene hull, adjustable foot braces and a super-comfy seat ensure a comfortable ride, while the boat's tidy geometry emphasizes efficient hydrodynamics. The Quest 11's angler-friendly pedigree includes covered bow stowage, molded rod holders and a generous stern cargo area that allows you to haul everything from optional tackle and crate systems to a Hobie Livewell.
---
model|Quest 13
crew | Single capacity | 350lbs length | 13′ / 3.96 m
The rotomolded polyethylene hull features generous belowdeck stowage, ample space for tackle boxes or tents, plus molded rod holders for trolling. A large, Bungee-secured stern cargo area accommodates everything from optional tackle to a Hobie Livewell, and an optional Twist and Stow rudder with foot steering control keeps the bow pointed in the right direction.
---
model|Kona
crew | Tandem capacity | 425lbs length | 11′ 6″ / 3.51 m
The Hobie Kona is a round peg that fits many different holes: in two-person configuration, it provides a stable ride and snappy, spin-in-a-second performance; when paddling alone, the boat's molded center seat keeps the boat sitting on her lines. The Kona's rotomolded polyethylene hull couples a wide beam with a relatively short waterline, delivering the responsive, stable performance usually found on longer boats. Carrying handles and on-hull paddle storage simplify portaging, and the deluxe, adjustable padded seats support your back and encourage longer excursions.
---
model|Odyssey
crew | Tandem capacity | 550lbs length | 14′ / 4.27 m
While the Odyssey carries a trim width relative to its sleek, 14-foot waterline, its cleverly designed rotomolded polyethylene hull provides ample form stability for casting, catching or getting a novice out on the water. Its impressive payload and smart deck configuration provide plenty of space for crew members and equipment, and the center seat ensures proper balance for solo outings.
---
Island Series
model|Adventure Island
crew | Single capacity | 400lbs length | 16′ / 5.05 m
Ride the wind: A roller-furling, vertically battened mainsail provides lift, a retractable centerboard prevents lateral slip, and the larger amas tuck parallel against the rotomolded polyethylene hull for docking. Multiple hatches, on-deck stowage and Vantage CT Seating encourage multi-day adventures, and the MirageDrive with Glide Technology offers paddle-free locomotion when the wind scatters, making it easy to get home. The "AI" is an exceptional bluewater-capable fishing platform. Equip the accessory trampoline kit for walk-around stability. Flexible too; use it with just a single ama or leave the sail at home to pedal or paddle.
---
model|Tandem Island
crew | Tandem capacity | 600lbs length | 18′ 6″ / 5.64 m
The Tandem Island's two-piece carbon composite rig minimizes weight aloft—thus stiffening the ride—and both cockpits are fitted with steerage and sail-handling controls, allowing sailors of all abilities to share the experience. Best yet, the Tandem Island is equipped with enough hatches and on-deck stowage for multi-day escapes. This is Hobie's ultimate blue water hunter, capable of marlin-teasing trolling speeds.
---
Inflatable Series
model|i9S
crew | Single capacity | 325lbs length | 9′ / 2.74 m
The i9S' on-the-water performance rivals that of rigid boats, and its rugged, PVC-vinyl construction and reinforced underside eliminate fears of rocky beaches. A wheeled travel case makes transporting a snap and enables stowage on an RV, car or yacht.
---
model|i14T
crew | Tandem capacity | 550lbs length | 14′ / 4.3 m
Two MirageDrives simplify locomotion, and an optional Sail kit enables you to enjoy everything from a sunrise paddle to an all-day, multi-sport adventure. The i14T's wheeled storage bag and its pump make hauling, storing and inflating the boat a snap. Its rugged, PVC-vinyl build and rubberized underside—coupled with its easy-to-grip carrying handles—facilitate smooth launching, landing and portaging.
---
Eddyline
Performance Series
model|Fathom LV
crew | Single capacity | 300lbs length | 15'6″
The Fathom LV is a scaled down version of the Fathom intended for the smaller framed paddler. This sporty kayak retains all the delightful handling and efficiency of it's parent, but is lighter and even a bit more nimble.
---
model|Journey
crew | Single capacity | 375lbs length | 15'6″
Life's a journey, and this kayak is bound to bring some fun to it. Journey is an efficient, stable and seaworthy cruising kayak capable of eating up miles and carrying a decent load for those weekend camping trips. The abundant cockpit and foot room makes it comfortable for larger folk yet the padded thigh braces and adjustable foot pedals, backrest, and seat allow virtually anyone to have a good fit.  . The Journey comes completely rigged with roomy bulkheaded compartments bow and stern, a retractable skeg, a full complement of deck rigging, perimeter lines, our popular retractable carry handles and our Infinity sliding seat design.
---
Recreational Series
model|Sky 10
crew | Single capacity | 250lbs length | 10′
The Sky 10 kayak came into existence due to the popularity of our well liked Skylark and the ever increasing demand for smaller, lighter boats. This kayak carries most of the paddling qualities and features of its 12 foot sister but sports a good 8 lbs less weight, making car-topping and general handling that much easier. The Sky 10 has more than adequate hull speed and efficiency for keeping up with groups on casual cruises and plenty of capacity for the average paddler.
---
model|Skylark
crew | Single capacity | 295lbs length | 12′
The Skylark fits into a new category of kayak considered transitional or cross over. While essentially a recreational kayak in size and fit, the Skylark has been endowed with much more consideration to the features and performance found in a full-fledged sea kayak. We gave it abundant stability and a roomy fit to make the entry-level paddler comfortable, yet the efficiency to keep up with longer boats on an easy cruise. At the same time we want the more experienced paddler to have fun, so we added hard chines for carving and Greenland styling for looks. This kayak is attractive to beginners and one that they can grow in, yet also provides a lightweight and fun alternative to the more experienced paddler.
---
model|Sandpiper
crew | Single capacity | 350lbs length | 12′
Anyone can paddle this boat! The large cockpit makes getting in or out of this very stable recreational kayak a breeze, even from a dock or boat deck. Take along your kid, your dog, your camera, the groceries, oh – and don´t forget the fishing rod. It´s stable enough to land a big one. The Sandpiper is easy to maneuver in those backwaters while bird watching and small enough to fit on your yacht. It is so easy to paddle you just might want two.
---
model|Rio
crew | Single capacity |270 lbs length |11'9″

A perfect medium between performance and comfort, the Rio is the ideal boat for those seeking the best of both worlds. The boat easily holds its own against touring boats while also offering a small frame for easy storage and transport. The kayak manages to fit all of the features of a long boat – fusion bulkheads, deck lines, molded thigh braces, and carry handles – into a beautiful, compact 35 pound package.
---
Wilderness Systems
Sit On Tops
model|Tarpon 100

crew | Single capacity | 325 lbs length |10′
This short little boat is a wonderful choice for those looking for something compact, maneuverable, and safe. The seat ensures that you will be comfortable during your paddle, no matter the place or duration of your excursion. The open deck of the Tarpon allows for easy entrance from the water as well as self draining scupper holes, letting you play without worry.
---
model|Tarpon 120

crew | Single capacity | 350 lbs length |12'3″
If the Tarpon line of kayaks were a family, the Tarpon 120 would be the big brother to the Tarpon 100. Coming in at 2 feet longer and slightly narrower, this kayak is a touch speedier and a hair less stable. This kayak is ideal for those with a need for speed and distance.
---
Sit Insides
model|Pungo 100

crew | Single capacity | 300 lbs length | 10′
For those looking for all the benefits of a Tarpon 100 but in a sit inside model, the Pungo 100 may be the right choice. Small and compact, the Pungo is storage and transport friendly.
---
model|Pungo 120

crew | Single capacity | 325 lbs length |12′
This boat just happens to be the best selling Pungo. This is due to the fact that this kayak offers great speed, storage space, manageability, and comfort. The Pungo 120 is, to put it simply, a great all around boat.
---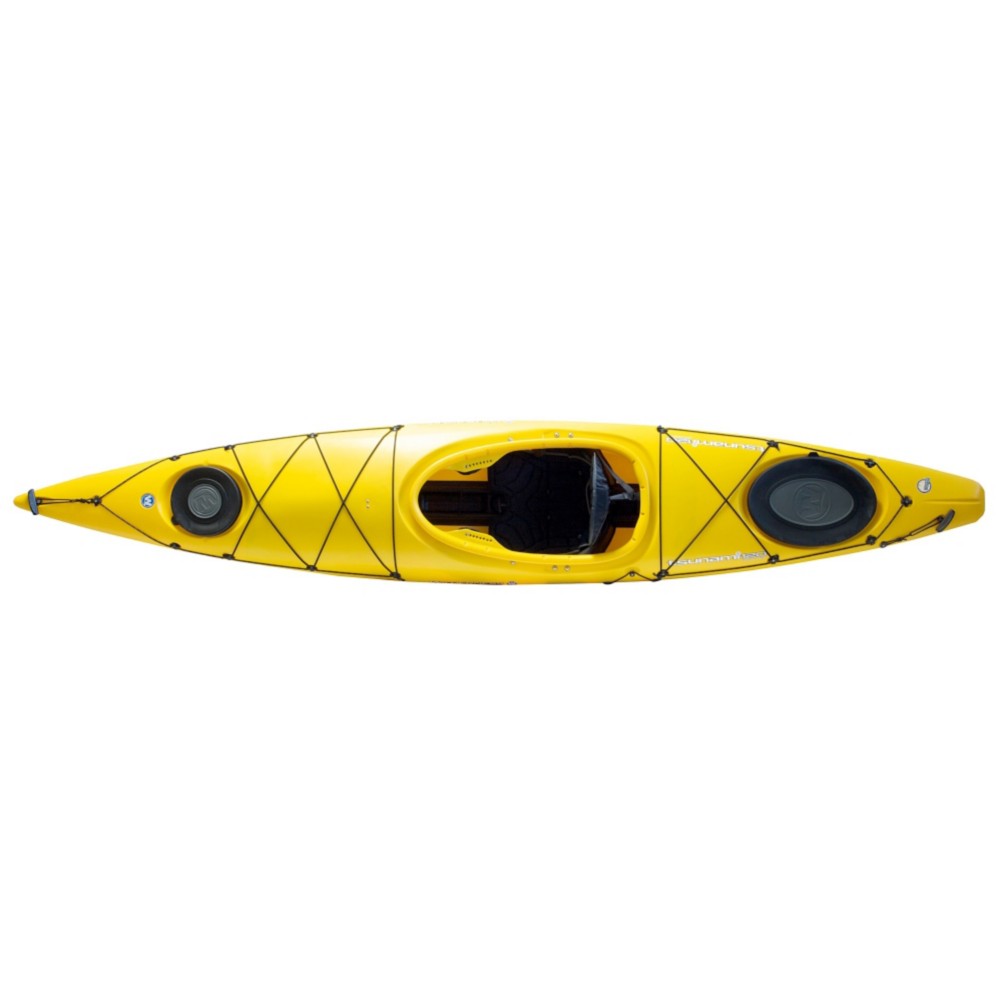 model|Tsunami 120

crew | Single capacity | 275 lbs length | 12′
This kayak features a narrower cockpit and two hatches. As such, the Tsunami 120 is suited for longer trips. Those looking to purchase a Tsunami 120 should feel comfortable on their self rescue techniques.
---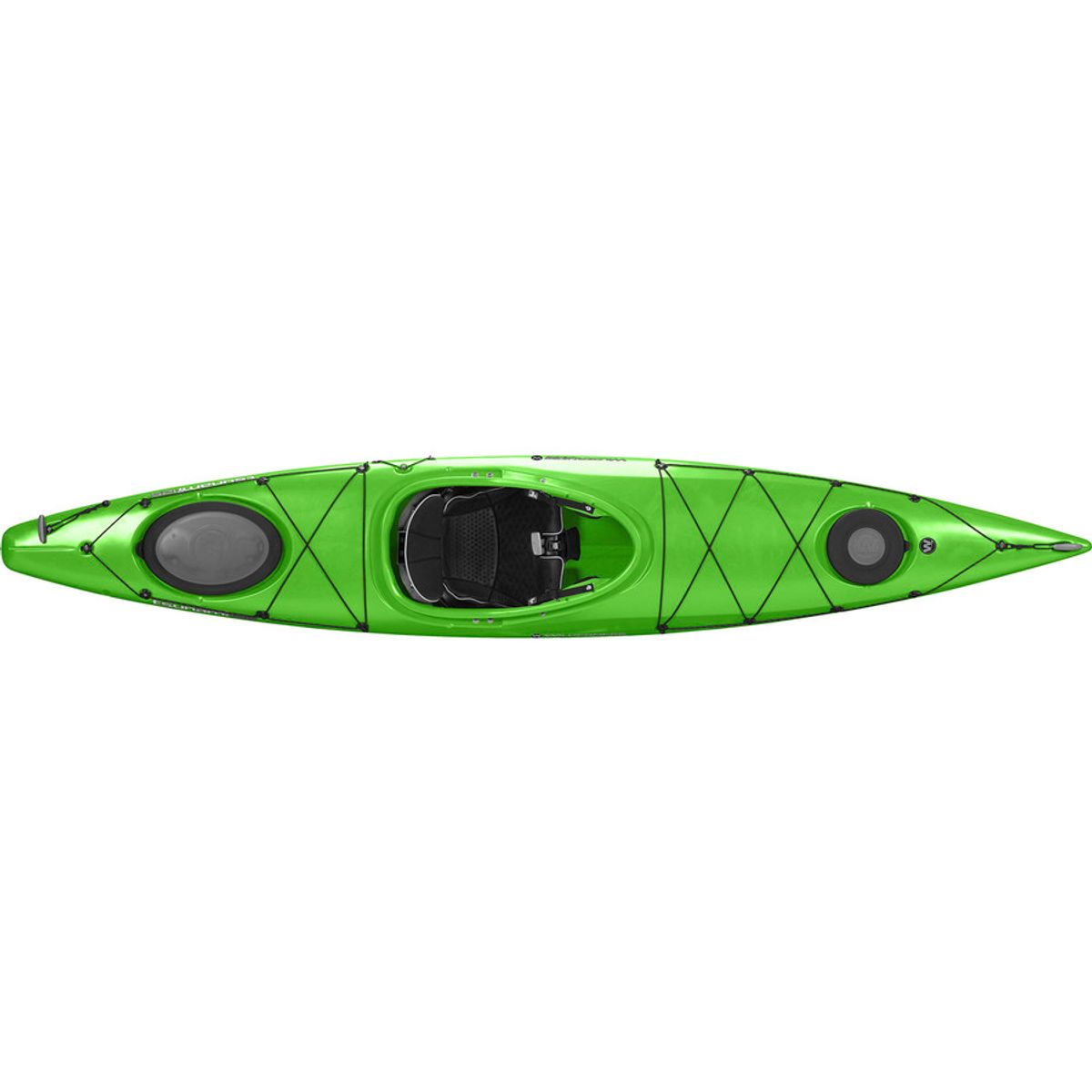 model|Tsunami 125
crew | Single capacity | 300 lbs length | 12'6″
The Tsunami 125 features an extra half foot of length than the Tsunami 120. This growth lends itself to a faster vessel. As before, someone paddling this kayak should be able to safely and effectively rescue themselves in the case of a flip.
---
Tandems
model|Pamlico 135T

crew | Tandem capacity | 500 lbs length | 13'6″
The Pamlico 135 T happens to be our only tandem sit inside kayak. For those teams that favor sit insides, this is the ideal boat for you. As an added bonus, the Pamlico 135T can be configured to turn into a single person kayak.
---
 Amundson
model|Amundson 12'6″

crew | Single volume | 237 L length | 12'6″ width | 29″
This board is wonderful. The lowered deck speaks to stability and the displacement hull promises to slice through any waves you encounter.
---
model|Amundson 14′

crew | Single volume | 304 L  length | 14′  width | 29.5″
This long board is perfect to satisfy a need for speed. In addition, the high capacity on the board is ideal for those looking to pack on their gear or for our larger paddlers.
---
Hobie
model|Hobie Elite Tour

crew | Single volume | 249 L length | 12'6″ width | 28.8″
This board is wonderful for longer trips. The large deck is has a grip designed to keep you on the board. The Elite also features a slight depression in the deck, lowering your center of gravity, and increasing your stability.
---
model| 14 E Series
crew | Single
The 14′ length on this board is perfect for touring. Don't be fooled by the fact that this board has been discontinued by Hobie, this is a wonderful SUP. Speedy and gorgeous, you'll be the envy of everyone you pass.
---
model|Hobie Eclipse 10.5
crew | Single capacity | 225 lbs length | 10'6″ width | 33.5″
A new addition this year, the Hobie Eclipse the first paddleboard with the infamous Mirage Drive System. Rather than using a traditional paddle to get around, the Eclipse is powered by a motion similar to a stair master. Not only does this create a whole new type of workout, it also moves the board about twice as fast as a traditional SUP.
---
model|Hobie Eclipse 12

crew | Single capacity | 275 lbs length | 12′ width | 35″
Coming in at 12′, this board serves as the longer, faster version of the 10′ Eclipse. Because this board is also wider, it does have an increase in stability.
---
Inflatables
model|Hobie Tour 12'6″

crew | Single volume | 298 L length | 12'6″ width | 32″
This Hobie inflatable paddleboard is ideal for the paddler looking to travel with their SUP. The board can be deflated to fit into a backpack with its fin and paddle, all of which are included in the price. The board can be inflated to 15 psi in mere minutes with the included pump.
---
Malibu

model|Malibu Tour 11

crew | Single capacity | 250 lbs length | 11'6″ width | 30″
This small board is our best prices all inclusive package. The board comes along with a Pau Hana SUP sleeve and an adjustable paddle. The length on this board allows for nimble turns and easy transportation and storage. Furthermore, the width on the board speaks to stability. The Malibu Tour is a fabulous, well-rounded board.
---
Pau Hana
model|Minisport 10'10"
crew | Single volume | 225 L length | 10'10" width | 28.5″
The Minisport is our smallest board, coming in at 10'10". This beauty of a paddleboard is great for mastering quick turns, fitting on top of small cars, or carrying small paddlers.
---
model|Cadence
crew | Single volume | 290 L length | 14′ width | 28.5″
At 14′, the Cadence excels at speed. This Pau Hana board was designed with touring in mind. You'll zip across the lake in no time with this stylish SUP.
---
Tahoe SUP
model|Rubicon
crew | Single volume | 269 L length | 12′ width | 30″
The Rubicon is a revolutionary board. The board is actually 2 pieces of material fused together. This lends itself to a light weight as well as a strong board. The handle that is embedded within the long deck allows for easy transportation.
---
model|Zephyr
crew | Single  capacity | 260 lbs length | 12'6″ width | 30″
The Zephyr is a beautiful board, featuring a long deck and a protruding handle for transport. A change from last year, Tahoe SUP has modified the interior of this board to make it stronger, lighter and faster.
---
model|Bliss
crew | Single capacity | 220 lbs length | 11'6″ width | 29″
The Bliss serves as the sister SUP to the Zephyr. A little smaller and a little lighter, the Bliss is ideal for the paddler who yearns for a light, compact, high performance board. Like the Zephyr, the Bliss is stronger, lighter, and faster than its predecessors.
---
Inflatables

model|Alpine 11′
crew | Single capacity | 260 lbs length | 11′ width | 30″
This inflatable board can deflate to fit into a bag, lending itself to the paddler looking to travel with their SUP. Furthermore, the board can be inflated to 20 psi, making a firm board that rivals a fiberglass SUP.
---

model|Alpine 12′

crew | Single capacity | 280 lbs length | 12′ width | 31″
This model is the longer version of the Alpine 12′. While it does still fit into a simple bag, this board has an added foot of length that will increase the tracking and speed of the SUP.
---
model|Paddlecraft
crew | Single capacity | 280 lbs length | 11′ width | 30″
The Paddlecraft boasts features from both beginner and high performance boards. The board is durable and stable, yet also has great speed and tracking. In addition, the board has a high capacity, meaning that it is perfect to load up for longer trips.
---